7/11/2022
|
Dental Practices
COMPLETED: Shawlands Dental Care
Exceptional eight surgery practice in Shawlands, Glasgow sold by Christie & Co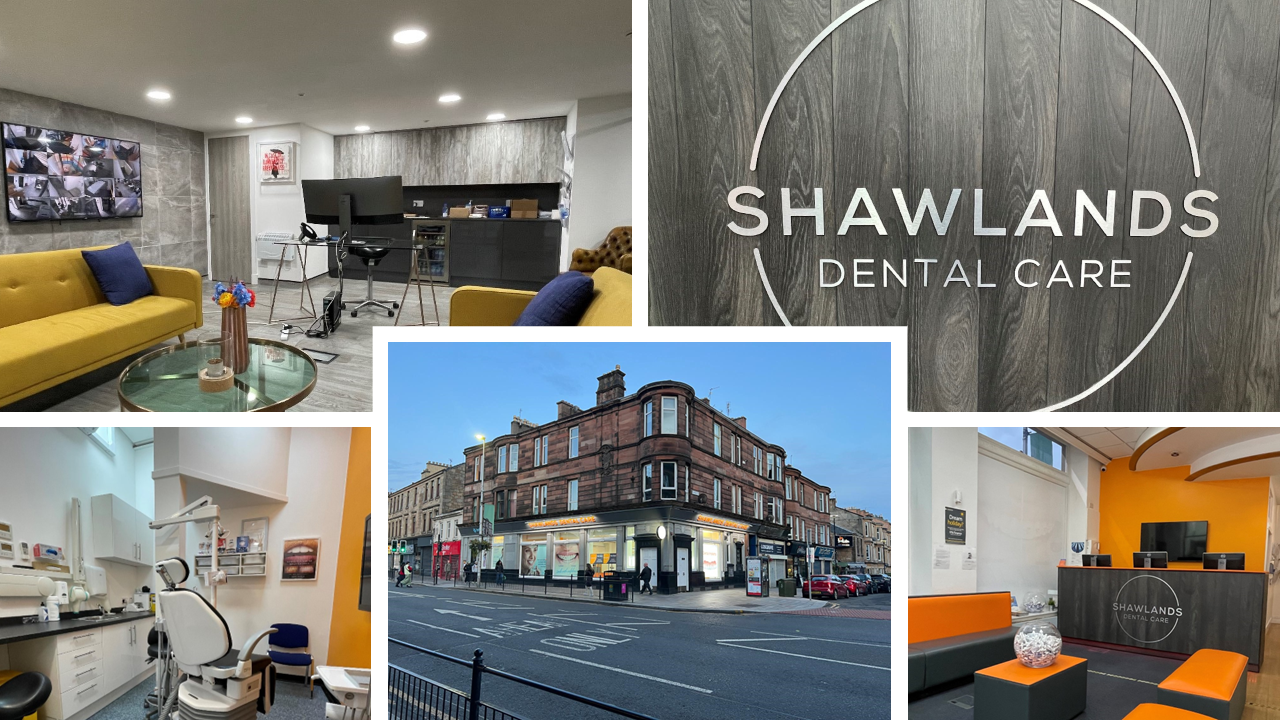 The Client 
We were engaged by Principals, Arfan Ahmed and Haroon Ismail to sell their impressive eight surgery practice, located in the Shawlands area of Glasgow. The practice is situated on Pollockshaws Road, just south of the River Clyde and four miles from the city centre. Shawlands, along with the affluent neighbouring district of Strathbungo, is popular with families and young professionals alike and offers a wide range of independent shops, cafes and restaurants within walking distance. 
The practice was originally located across the road and existed as a two surgery practice. In 2014, the vendors moved the business to its current location, once again, trading as a two surgery practice. Over the course of six years, the practice grew with a new surgery being installed every year, culminating in the complete renovation of the basement area. 
Shawlands Dental Care offers a full range of NHS and private treatments to both adults and children as well as referral patients. The practice offers the highest quality dental care with a focus on preventative, restorative and cosmetic dentistry as well as hygiene services and surgical procedures. The practice places emphasis on further training, with many of the clinical staff qualified in procedures such as implants, orthodontics and endodontics. 
Technology also plays an important role to enhance the patient experience with state of the art X-rays and scanners. Principals, Arfan and Haroon have built an enviable status, with the practice having one of the best reputations in the country and this is highlighted by the many five star Google reviews they receive.  
The Request 
Over time, the vendors began to focus on the development of the business as they recognised a practice with such a reputation would represent one of the best opportunities within the Scottish dental market. We were tasked with finding a capable buyer who could not only transact a deal at this level, but would continue to grow the business all the while still delivering on high quality patient care. One of the main prerequisites that the Principals had for Christie & Co, was that the marketing must be treated with the highest level of confidentiality.
The Solution 
Following a highly selective process, with details only being distributed to a pre-approved list of buyers, we were able to use our extensive knowledge of the Scottish dental market to achieve a number of highly competitive bids, enabling our client to select a preferred buyer that matched the ethos both of the Principals and the business they have built.
The Results 
Following a successful closing date, a deal with Dentex was initially agreed, however, after substantial growth during the deal period, we were able to negotiate a considerable increase which best represented the practice in its present format. 
Following the conclusion of the deal in May 2022, all parties were delighted with the outcome; Dentex has added one of the best practices in Scotland to their portfolio and the sellers can now concentrate on their wider clinical role within the practice.
Here's What Our Clients Have to Say
"I'm incredibly grateful to Christie & Co for organising our partnership with Dentex. Having sold several practices in the past, there was no-one else I would have trusted to handle the sale. In particular, I want to thank Joel Mannix for his advice, guidance and much-valued discretion while negotiations were ongoing. These types of sales can often be a headache for buyers and sellers, but he made the whole process seamless and we couldn't be happier with how things have come to fruition." - Dr Arfan Ahmed - Former Managing Partner and Founder of Shawlands Dental Care