2/4/2022
|
Childcare & Education
COMPLETED: Project Cherub
A group of nine day-nurseries across West Yorkshire sold to a national operator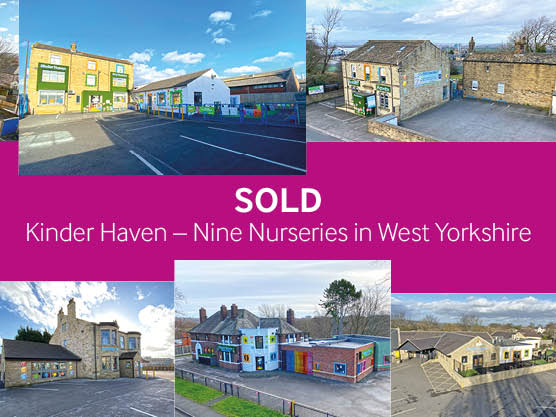 The Client
Danielle and Darren Dixon whom we have worked with and advised over a number of years engaged Christie & Co to sell this renowned group as they had come to a crossroads. The choice was either continue to expand organically which they had always done or look and plan their exit strategy. The group comprised 9 exceptional Freehold Children's Day Nurseries located across the Yorkshire regions.
The Brief
The clients wanted to achieve a highly confidential sale as none of the staff or parents would be made aware of the sale until completion. Christie & Co were instructed to approach a vetted target list of the most active buyers in the sector would be able to conclude a transaction of this size in a speedy manner. The sellers were looking for a premium price for their premium product which would create a perfect platform opportunity in these popular locations and they also wanted to make sure that the new owners would build on what they have achieved over the years and continue with their ethos of providing the highest levels of childcare.
The Solution
The team at Christie & Co created a fantastic amount of competitive tension via a highly confidential process with interest from buyers not only from the UK but further afield into Europe. This was undoubtedly a rare opportunity to be able to acquire if not the largest privately owned groups in the North of England.
The Results
Our process resulted in the receipt of a number of very competitive offers from existing operators and new entrants to the market. After moving to full and final bids this deal was agreed to the expanding UK based nationwide childcare group Kids Planet. This has enabled them to take a strong foothold on this side of the country to help them buy and build and continue to grow.
Here's what our clients have to say: 
Having made the decision to sell Kinder Haven Ltd, it was important for us to choose a company with a great reputation with the same ethos and values.  We are delighted to have chosen Kids Planet to nurture the Kinder Haven family, continue the legacy and take it to the next level.  Kids Planet was the right fit for us, they are a hugely successful nursery group dedicated to providing exceptional childcare with a strong commitment to staff development.   
 We are thankful to of been advised and supported by our team at Gordon's LLP, BHP accountants and Christie & Co, their professionalism and commitment has been invaluable during this transaction.  
For more information contact the agents:
Nick Brown
T: 07764 241 316
E: nick.brown@christie.com
Vicky Marsland
T: 07526 175 857
E: vicky.marsland@christie.com