Carine Bonnejean, Managing Director of Hotels at Christie & Co inducted into the International Society of Hospitality Consultants
Specialist business property adviser, Christie & Co is delighted to announce Carine Bonnejean, Managing Director – Hotels has been inducted into the International Society of Hospitality Consultants (ISHC) among sixteen hospitality consultants, qualified by their expertise and reputation, in its 2023 membership class.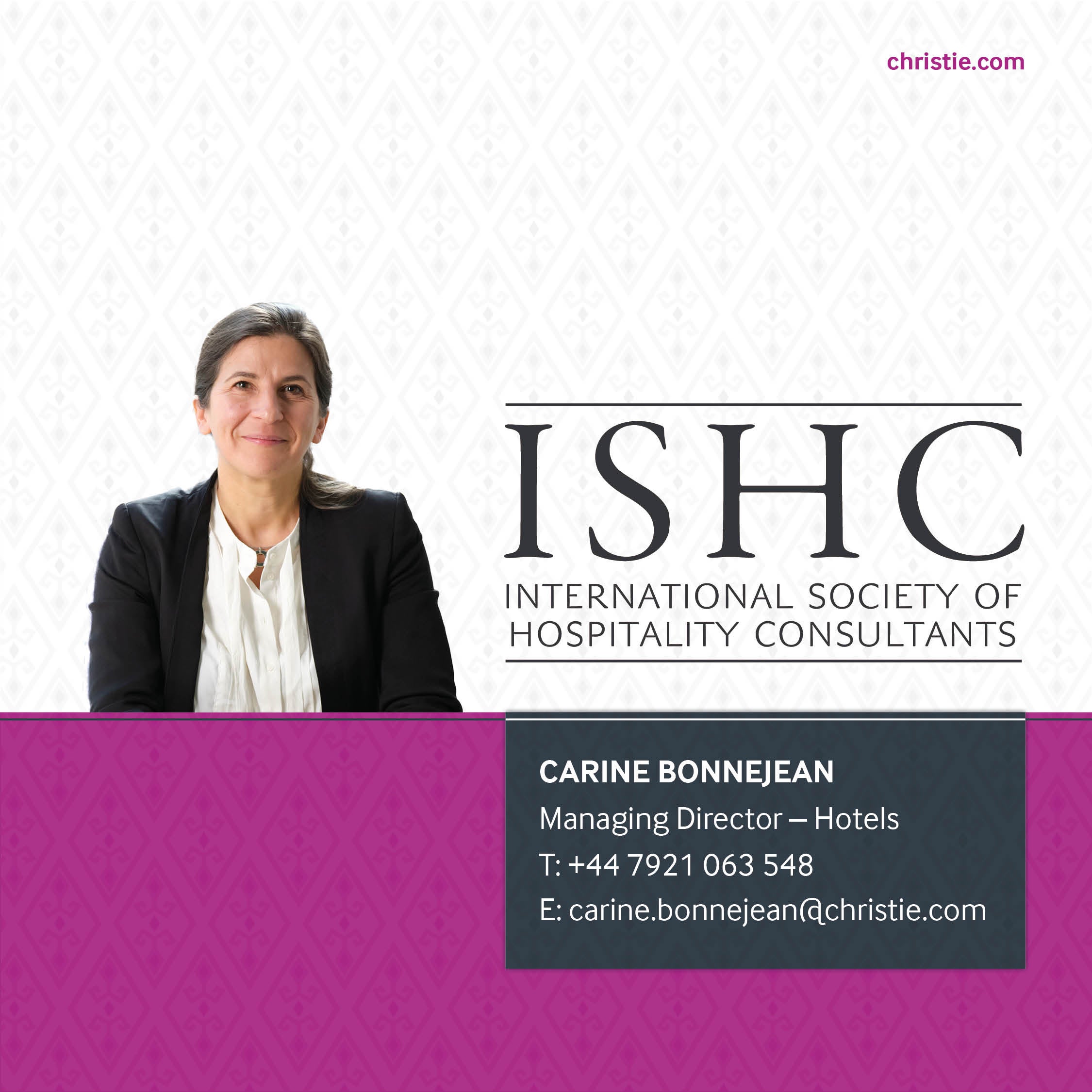 As the leading source of global hospitality expertise, membership to ISHC is by invitation only, and members are viewed as leaders in their respective areas of expertise. Candidates for membership undergo a rigorous screening process, ensuring that all ISHC members have a reputation of integrity and are qualified by their experience, training, and knowledge to develop and express sound judgment on industry issues. 
Carine leads the hotel specialist team at Christie & Co, including the UK corporate agency and investment teams as well as the UK and European advisory teams. Based in London, Carine has been with Christie & Co since 2005 and was promoted to Managing Director of Hotels in October 2019. Over the years she has led several high-profile investment advisory projects in the UK and across Europe for leading hotel groups and investors. Carine holds an MBA in International Hotel Management from IMHI – a joint programme between Cornell University, Ithaca, and ESSEC business school, Paris. She also has a BSc (Hons) degree in Hotel Management.
Andrea Belfanti, CEO of ISHC comments, "We are honored to welcome this new class of impressive and diverse industry leaders. We feel this class of new members is a projection of the future of hospitality leadership and fulfills our 35-year tradition of the best-of-the-best consultants in the hospitality industry."
Carine Bonnejean adds, "I feel really honored and privileged to now be a member of the ISHC amongst so many great leaders across the globe. I look forward to meeting the members in the coming months and to support the development of our industry."
ISHC is composed of individuals, not organizations, corporations, or groups. To be eligible for membership, an individual must be an owner, officer, partner, or principal of his or her own company, or the equivalent thereof, and be qualified by his or her years' experience consulting.
At its core, ISHC's mission is to contribute to the advancement of its members and the hospitality industry, cultivating a collegial environment for networking, professional development, and knowledge exchange, while fostering credibility and integrity. The value ISHC provides to its members is the opportunity to build meaningful relationships with industry experts specializing in all disciplines of hospitality, in all parts of the world through collaboration, knowledge, and idea exchange. ISHC members are bound by the Society's By-Laws and required to adhere to the Code of Professional Conduct.
ISHC proudly welcomed the following sixteen new members in its 2023 membership class:
Mark Bithrey, B3 Designers
Paul Boldy, RLA Global
Carine Bonnejean, Christie Co.
Judith Cartwright (Associate), Black Coral Consulting
Anthony Cavanaugh, Pillsbury Winthrop Shaw Pittman LLP
Isaac Collazo (Associate), STR
Brent Hardy, The Hardy Group
Cornelia Kausch (Associate), CK Hospitality Advisors
Kim Massey, The Rise Group
Chris Mumford, Cervus Leadership Consulting
Mila Nouralla, NUR Business Consulting
Frederic Picard, Cap Hospitalité
Kendra Plummer, Elise Capital
Philip Schaetz, Cube Thinking
Michael Shindler, Four Corners Advisors, Inc,
Ted Torres, Crede Group
For further information on this press release, contact:
Bronte Hughes, Corporate Communications Executive
P: 020 7227 0794 or E: bronte.hughes@christie.com