7/11/2023
|
Childcare & Education
While some preparatory and smaller independent schools feel the pinch, demand for assets remains strong says Christie & Co
Today, specialist business property adviser, Christie & Co, has released its Childcare & Education: Mid-Year Review 2023 which analyses the childcare markets so far in 2023, including the independent education sector.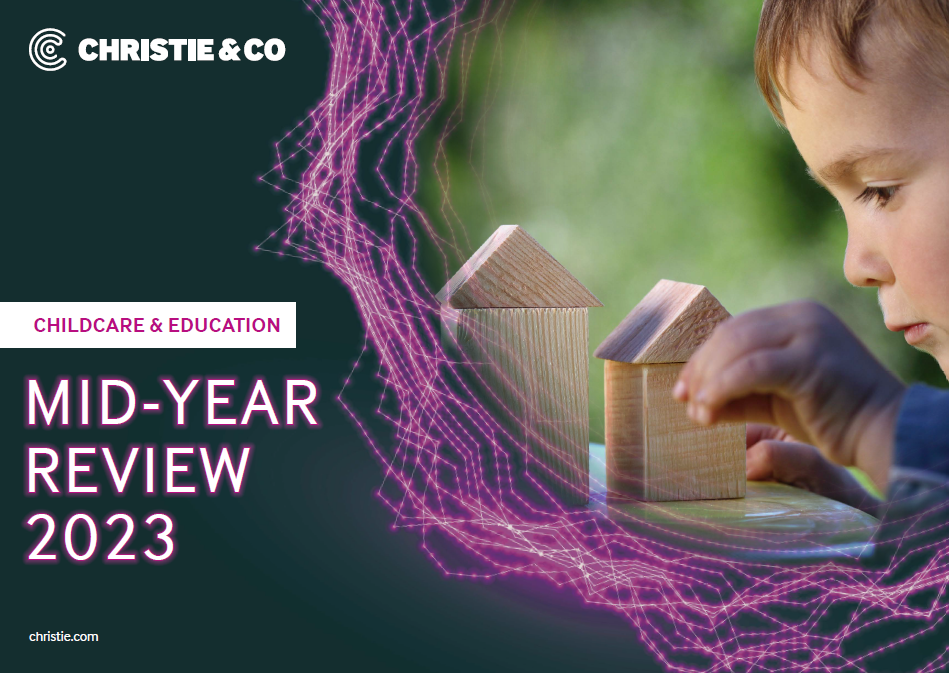 While the UK independent school market remains largely stable, with roughly 7 per cent (625,000) of children in the UK being educated at one of the country's circa 2,420 independent schools (Department for Education), Christie & Co highlights that some preparatory schools are feeling the pinch more than ever. With post-COVID staffing challenges and increased operational costs, teamed with declining attendance for some, the finances for some provincial schools, especially smaller capacity schools, are becoming increasingly tight.
There is limited appetite from trade buyers for schools in financial distress but, once closed, these educational properties are often snapped up by expanding SEND operators who see the great potential these properties bring to fulfilling the demand for their services. 
Demand from buyers and investors at the premium end of the market remains incredibly strong. Notable sector transactions so far this year include Oakley Capital's acquisition of a minority stake in Thomas's London Day Schools and Inspired Education's acquisition of the prestigious Alpha Plus Group, a portfolio of 17 schools and nurseries. 
2023 has also proven to be an exceptionally busy year for Dukes Education, with acquisitions including United Lisbon International School in Portugal, Copperfield International School in Switzerland, and The Institute of Education in Dublin. Off the back of an incredibly busy period of domestic and international acquisition activity, when the opportunity arose for investors to partner with Dukes Education, appetite was strong, with growth investment received from Universities Superannuation Scheme (USS), Macquarie, Nomura, and a perpetual capital vehicle from KKR. The transaction is due to close by the end of the summer following regulatory clearances. 
The funding landscape 
Christie Finance notes the Bank of England base rate increase by 3.75 per cent in the last 12 months (1.25 per cent in June 2022 to 5 per cent in June 2023) has created unrest amongst buyers and operators alike and affordability for first-time buyers has been reduced, with operators working on lower profit margins due to higher debt service costs.  
Richard Green, Director – Valuation Services, Christie & Co, comments, "The market continues to be busy with many operators looking for valuations to raise finance to fund further investment and to make strategical plans for the future. The SEN market also remains busy with operators still keen to acquire closed primary school sites." 
For the full Childcare & Education: Mid-Year Review 2023 report, visit: https://www.christie.com/childcare-education-mid-year-review-23/  
-----------------------
For further information on this press release, contact: 
Phoebe Burrows, Corporate Communications Manager 
P: 07540 063 598 or E: phoebe.burrows@christie.com 
Visit Christie & Co's Business Search page to find out more about current listings.