Event Recap: International Hotel Investment Forum 2021 (IHIF) in Berlin
Christie & Co Global Managing Director, Darren Bond and representatives from Christie & Co's UK and European Hotel Brokerage and Consultancy teams were delighted to attend the 23rd annual International Hotel Investment Forum 2021 (IHIF) in Berlin earlier this month, on 1-3 September.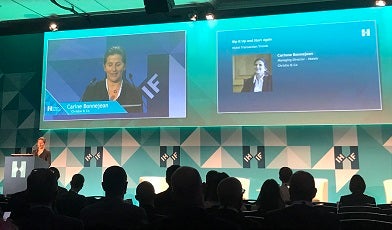 Regarded as the leading annual conference and exhibition for the global hotel industry, the three-day event brings together key hospitality figures from 80 countries, creating unrivalled networking opportunities, and features over 170 industry leading speakers from across the global hospitality market as part of an exciting programme of educational sessions and panel discussions.
Excitingly for the hospitality sector, this event marked the first running of IHIF in over 30 months due to Covid-19 – a promising indication that the sector is regaining a sense of normality, albeit a 'new normal' which was reflected in the revised event format, with both in-person and virtual experiences on offer over the three days.
There was an overall sense of positivity and optimism for the industry due to the event going ahead and the bounce-back we have begun to see in many markets around the world.
Key discussion points included the wall of cash surrounding the hotel sector and the lack of transactional opportunities of scale, resulting in little major portfolio deals to date, along with the rise of challenger banks due to the reluctance of traditional lenders to hand out debt to new clients. Looking ahead, topics such as the future of business travel, labour shortages and environmental and social governance (ESG) were top of mind.
Day 1
This year, Christie & Co's Managing Director of Hotels, Carine Bonnejean delivered the event's opening session titled, 'Rip It Up and Start Again - A Global Trading Update', which focussed on UK and European hotel transactional trends, the development pipeline and hotel performance.
It was noted that transactional volumes are beginning to recover, and we are starting to see more active deal flow across Europe, with figures 30% above 2020 YTD levels. The UK is experiencing a large slice of the action, with key deals so far this year including Marathon asset management's purchase of a 17-strong UK hotel portfolio from Cerberus for a reported £180m and PPHE's recent joint venture with Clal Insurance on two of their prime London hotel assets. One sub-sector which is experiencing a flurry of activity is Holiday Parks, driven largely by the "staycation" boom.
Carine also discussed who is actively buying across the market, highlighting that cross-border investment has increased YTD vs 2020, with North American investors gaining strong momentum as a key source market for transactions – a phenomenon we also saw following the Global Financial Crisis. Institutional capital is also on the rise, with names such as Union Investment, Schroders, Marathon Asset Management and Extendam active across Europe.
Five key transactional trends were mentioned:
An ongoing lack of stock, in particular opportunities of scale
A significant imbalance between the amount of available capital waiting for opportunities and transaction volumes, particularly distressed activity
A delay to the wave of distress that was predicted for this year. This is largely due to ongoing government support measures, patient lenders holding off from moves that will create distress and a rise in leisure demand
Limited reduction in pricing due to low stock, which is creating competition for deals and in some instances, pushing values above asking price
A rise in new, challenger banks as traditional lenders remain reluctant to lend to new clients and remain focused on supporting existing customers
The topic of 'distress' and when this is likely to materialise was also a major focus of the presentation. Using the Global Financial Crisis (GFC) in 2008 as a model, Carine shed a light on the amount of time we might expect before distressed hotel opportunities emerge.
Whilst not exactly the same situation, it is interesting to observe the lag between the initial shock of the GFC crisis and rise in distress activity, a period of 24-36 months (see graph below). We have also experienced little distress to date with Covid-19, with less than 10% of Christie & Co's transactions including an element of distress since the beginning of the pandemic. Additionally, insolvencies across Europe are at their lowest levels in decades.
This suggests we may not see an influx of distress until Q2 2022 at the earliest however, this is very dependent on trading recovery. If this is strong, we may not see the same level of distressed activity that was originally predicted for some time, if at all.
Source: Real Capital Analytics www.rcaanalytics, Christie & Co Research & Analysis
Day 2
On the second day of the conference, Christie & Co's Head of Hotels in Germany, Benjamin Ploppa moderated a panel discussion titled, 'City Hotels: Meeting the Needs of Travellers and Locals'.
The panel discussed the bigger picture and the future of city hotels, a building that has always and will continue to play an important role in inner-city developments, being places where people can work, communicate, relax, eat and drink and simply feel at ease. During the 20th century urban development mirrored the ideological principle of separation, keeping living and working environments apart. Today, city planners promote mixed-use and heterogeneity, considering the impact a hotel will have on a community and city.
It is fascinating to see, that present day attitudes hearken back to the key features of historic cities with more public spaces and heterogeneity. City hotels have suffered more than regional or leisure hotels, but the panel agreed that cities are and always have been places of change, creative destruction and innovative renewal. City hotels are a perfect link and those recognizing this potential will see very good perspectives. The future of city hotels lies in the power to adapt and change!
Commenting on the event, Christie & Co Global Managing Director, Darren Bond said:
"It was great to be back at IHIF after such a long break. Whilst the hotel industry has been severely impacted by Covid-19, the enforced closures and restrictions on travel, the mood in Berlin was one of optimism.  Meeting industry friends and connections again in person has been really missed and it is this interaction that's at the very heart of the hotel investment community."
The full list of Christie & Co delegates in attendance at this year's event included:
Darren Bond – Global Managing Director
Carine Bonnejean – Managing Director of Hotels
Benjamin Ploppa – Director - Head of Hotels, Germany
Jeremy Jones – Head of Hotels Brokerage, UK
Philippe Bijaoui – Managing Director, France
Nicolas Cousin – Head of Consultancy, Spain
Simon Kronberger – Director of Hotels, Austria & CEE