8/30/2022
|
Childcare & Education
Three Hampshire day nurseries sold for the first time to Busy Bees
Specialist business property adviser, Christie & Co, has announced the sale of a group of three 'Outstanding' rated Egg Day Nursery settings in Hampshire.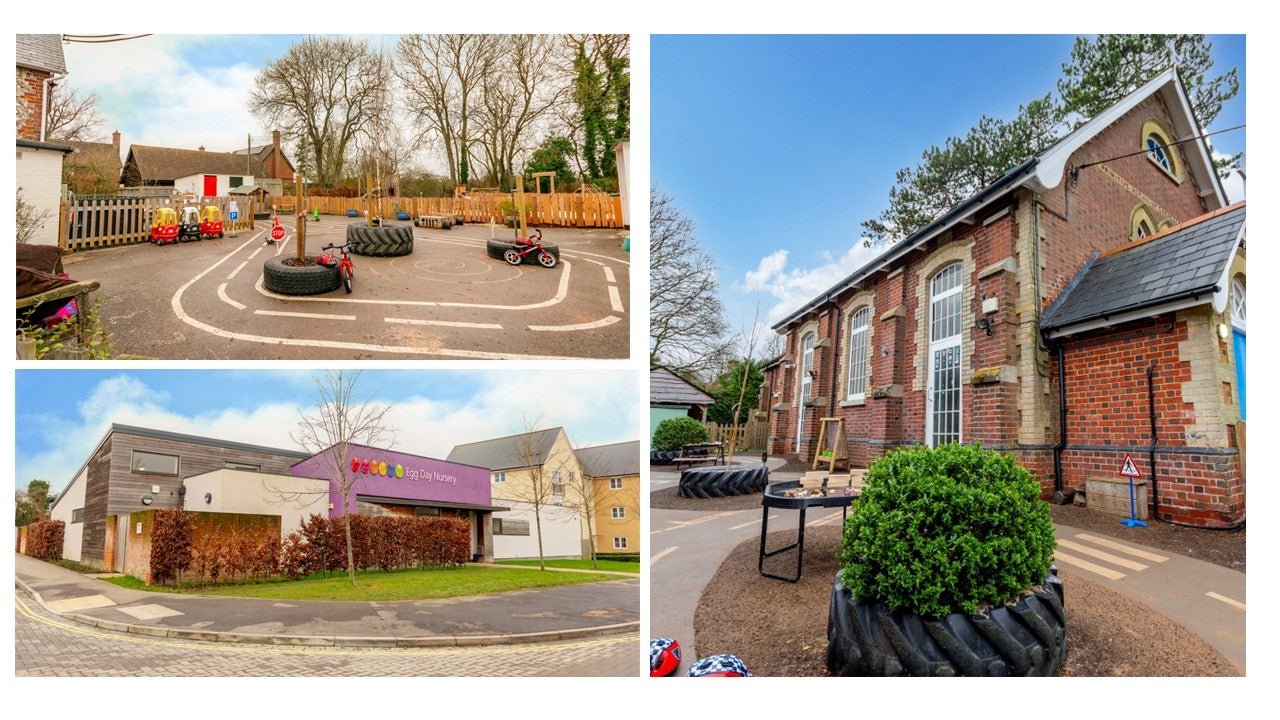 The Egg Day Nursery business is a well-established, profitable day nursery group, which is renowned for providing high-quality childcare for up to 181 children across the three settings; one in Picket Twenty, Andover, one in Sutton Scotney, Winchester, and Magic Tower Montessori in Weyhill.
The group was founded in 2010 by Anthony and Briony White. Briony was on maternity leave from her teaching role when they both noticed a lack of 'Outstanding' nursery provision nearby. It was then that they decided to combine their expertise and open their first setting in Sutton Scotney, which was hugely successful and achieved its first 'Outstanding' rating in 2014. The pair subsequently opened the other two settings, with Magic Tower achieving an 'Outstanding' in March of this year.
Briony and Anthony recently decided to sell the Egg Day Nursery group to allow them to pursue new ventures. Following a confidential sales process with Christie & Co, the business has been sold to the UK's largest nursery group, Busy Bees, which now has 386 nurseries across UK and Ireland, including four early years settings based in Hampshire, including Busy Bees Eastleigh, Pilgrims Close.
Briony and Anthony comment, "It has been an absolute pleasure to have provided childcare and early years education to all our children and families and to have worked with countless dedicated, professional, and caring colleagues during the past 12 years from when Sutton Scotney was established. We are confident that our children and our staff team will be in excellent hands with Busy Bees and that the nurseries will go from strength to strength with the depth of expertise and experience they have. We wish everyone all the very the best for the future." 
Cheryl Creaser, Europe Chief Executive at Busy Bees, comments, "We are delighted to welcome Egg Day Nurseries to our growing family. The owners have created three beautiful nurseries that offer wonderful learning environments for children, and we are committed to preserving their vision going forward. We're looking forward to working with the team to ensure we can continue providing children with the best start in life."

Sophie Willcox, Director – Childcare & Education at Christie & Co, who handled the sale, comments, "I have known Briony and Anthony for several years and over a coffee they decided to trust me to test the market for them. Through a very competitive process we were inundated with market-setting offers from multiple well-funded parties, which really highlights the quality of their group and the demand from buyers for quality nurseries in the south. They have both been a genuine pleasure to work for and I wish them all the best for the future.
"I would also like to thank Helen Wong and her team at Setford's Solicitors for their integral role in getting this to completion. As always, it is a pleasure to work with such a knowledgeable and efficient team."
The three Egg Day Nursery settings were sold for an undisclosed price.
For further information on this press release, contact:
Phoebe Burrows, Corporate Communications Manager
P: 07540 063 598 or E: phoebe.burrows@christie.com
Contact the agent:
Sophie Willcox, Director – Childcare & Education
P: 07736 620 855 or E: sophie.willcox@christie.com
Visit Christie & Co's Business Search page to find out more about current childcare listings.