7/26/2022
|
Childcare & Education
Appetite for independent schools remains robust, reports Christie & Co Mid-Year Review
Specialist business property adviser, Christie & Co, has today launched its Childcare & Education: 2022 Mid-Year Review report, which analyses the childcare markets so far in 2022, including day nurseries, specialist education and looked after children, and independent education.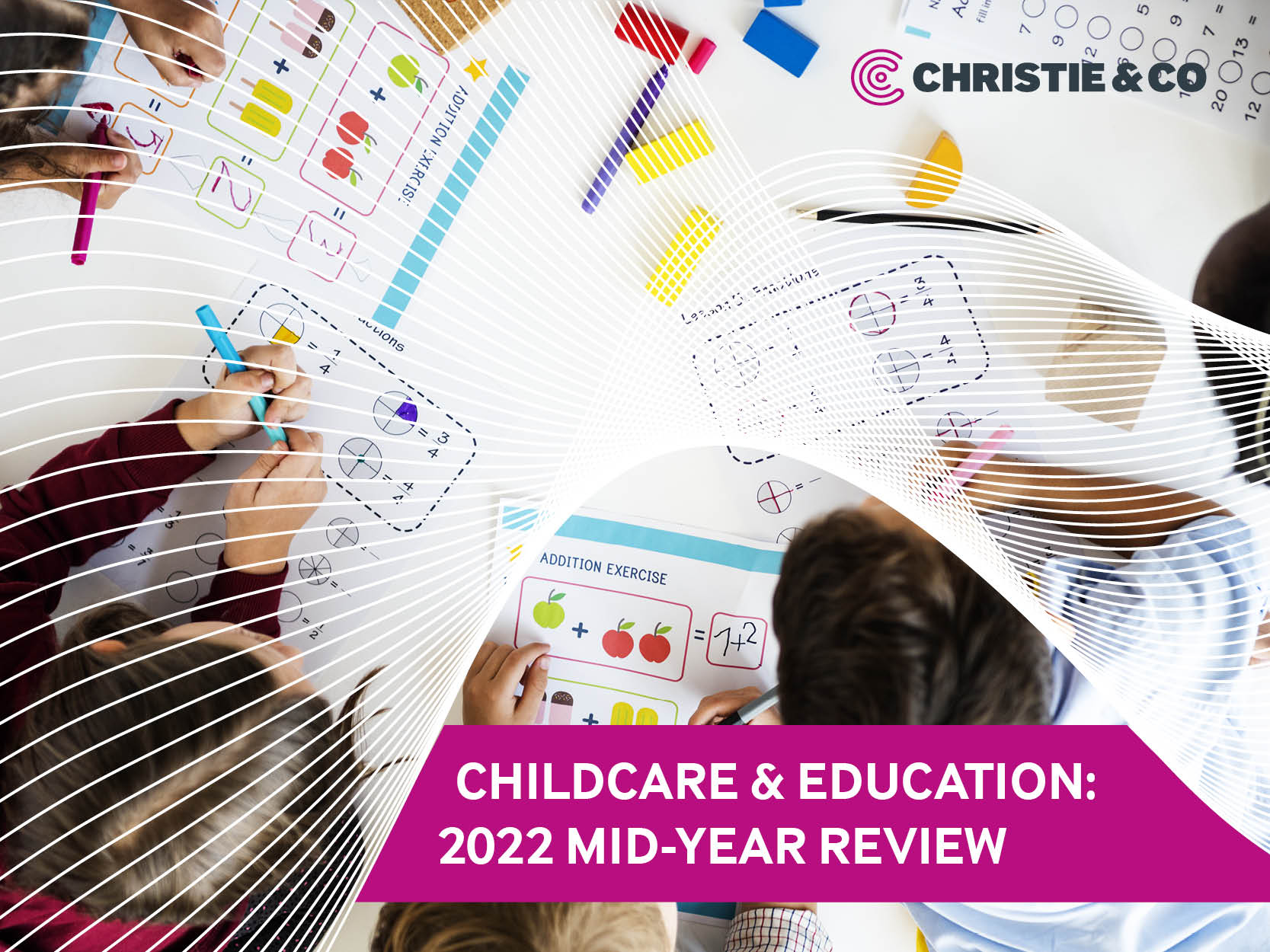 Christie & Co begins by highlighting the buoyancy of market activity so far this year, citing that it has seen a 51 per cent increase in business owners deciding to sell in the first half of the year.

Despite naming a multitude of reasons why many more are selling, including emotional drain of having traded through a global pandemic, ongoing economic insecurity and increased operational costs, Christie & Co said that owners of businesses demonstrating recovered revenue and earnings have plenty of reasons to be confident, as the best businesses continue to achieve heady prices.
The specialist business property adviser reports that, from 2021 to 2022 YTD, across its childcare sectors, it has seen a 47 per cent increase in the number of inspections, 51 per cent increase in new instructions, 50 per cent increase in businesses sold, and a 34 per cent increase in viewings. 99.5 per cent of asking price is also being achieved, which is an increase on the previous year.
Looking globally, buoyancy spreads across ECEC markets, with active buyers in Europe and further afield seeking acquisition opportunities. Outlook for the remainder of the year looks positive, and Christie & Co expects the markets to remain resilient and for consolidation to continue.
Activity in the independent education market
Appetite from those seeking to acquire and invest in independent schools remains robust and continues to come from a wide pool of buyers, many of whom have educational backgrounds.
There is a particular increase in interest from buyers for smaller provincial schools - a shift in trend compared with pre-pandemic times - as well as a renewed interest from overseas school operators, perhaps seeking to ensure that they have a UK presence to future-proof challenges around student migration, should this issue resurface.
A key deal so far this year is Patron Capital Partners' acquisition of Wishford Schools; a group of eight prep schools and a co-educational day and boarding schools, educating more than 2,500 pupils across Berkshire, Gloucestershire, Kent, and Wiltshire.
Key challenges in the sector
The volume of transactions has been slightly supressed in 2022 so far, which is principally due to financial performances being largely distorted, with buyers for schools being more cautious.
Christie & Co has witnessed a broadening gap between schools that have been revived, and those in increasingly untenable financial positions, with business casualties coming to the market, including some provincial schools, colleges and tuition centres which have failed to regain student numbers - especially those with a high dependency on international students - and would likely face the greatest financial sustainability challenges.
The specialist property adviser has recently seen an increase in smaller provincial schools that have continued to face financial challenges - some of these were insolvent pre-pandemic and that position has subsequently worsened. It predicts that demand for former schools, if brought to the market with vacant possession, will continue to receive a high level of interest from a wide buyer pool.
Rosie Adlem, Director – Childcare & Education, comments, "Whilst activity in the independent education market remains strong and buoyant, the sector continues to be quite polarised, with some schools flourishing and experiencing good, and even improved, recovery, through to those that are feeling the added stresses of increased expenditures and staffing pressures, coupled with occupancy challenges. A notable change in recent months is the continued increased interest from overseas buyers, with a number of international school groups being keen to purchase, and eager to actively source a UK Independent School acquisition. The biggest hurdle here is the availability of suitable opportunities."
For the full Childcare & Education: 2022 Mid-Year Review report, visit: https://www.christie.com/news-resources/publications/childcare-education-2022-mid-year-review/ 
For further information on this press release, contact:
Phoebe Burrows, Corporate Communications Manager
P: 020 7448 8849 or E: phoebe.burrows@christie.com