New deli shop set to open in Borth-Y-Gest at former 'Moorings Bistro' site
Specialist business property adviser, Christie & Co, is delighted to announce the former Moorings Bistro restaurant, which overlooks the beautiful bay of Borth-Y-Gest, just outside Porthmadog in Wales, is set to begin a new chapter as a delicatessen, following its successful sale to experienced restaurateurs.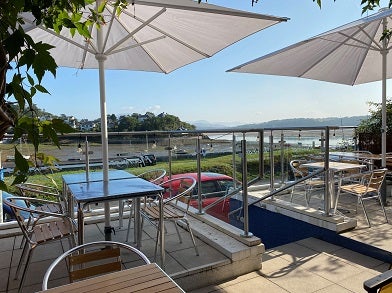 The venue has operated as a bistro under the ownership of Melanie Gautier and Ross Kempster, with their business partner and friend, Mohand Yahia heading up the kitchen, since 2014. It was well-known within the area for its great local cuisine, outdoor terrace and uninterrupted views of the bay and surrounding mountains.
Melanie and Ross loved every minute of running the business but decided to put it on the market so they could step back and focus on other projects.
They comment, "We would like to thank you and your team for putting our little bistro in North Wales on the map and finding the perfect buyers for it. From our first meeting we knew that we would be in good hands with Christie & Co, and we couldn't be happier with the result."
The new owners, Joanne Hewitt and Charlie Weeks bring with them a wealth of hospitality experience, with Joanne having worked in the restaurant industry for over 20 years, most recently in General Management at a popular restaurant in Halifax, Nova Scotia. Charlie brings specialist wine knowledge, working in a private wine shop in Halifax.
The future business will be called 'Bae Borth Deli Bar', a delicatessen that specialises in Welsh cheese, wine, ales and spirits and offers a small dine in and takeaway offering of fresh salads, sandwiches and bar snacks.
Joanne and Charlie comment, "We're so excited to own our own business and become part of the local Borth-Y-Gest community. We are moving to the town to run the deli and to be closer to family who live in Cricceth. Living and working in such an amazing location is a dream come true and we can't wait to get Bae Borth Deli Bar up and running."
Tom O'Malley, Associate Director in Christie & Co's Hospitality team, who negotiated the sale, adds, "This was a fantastic opportunity to sell on behalf of Melanie and Ross and I wish them all the best. Good luck to the new owners, Joanne and Charlie with the new business adventure in this idyllic town, we look forward to seeing your plans come to life."
For further information on this press release, contact:
Bronte Hughes, Corporate Communications Executive
P: 020 7227 0794 or E: bronte.hughes@christie.com
Contact the agent: 
Tom O'Malley, Associate Director – Hospitality
P: 07764 378 446 or E: tom.omalley@christie.com
Visit Christie & Co's Business Search page to find out more about current hospitality listings.