7/26/2022
|
Childcare & Education
Christie & Co reports severe lack of supply in SEND childcare markets
Specialist business property adviser, Christie & Co, has today launched its Childcare & Education: 2022 Mid-Year Review report, which analyses the childcare markets so far in 2022, including day nurseries, specialist education and looked after children, and independent education.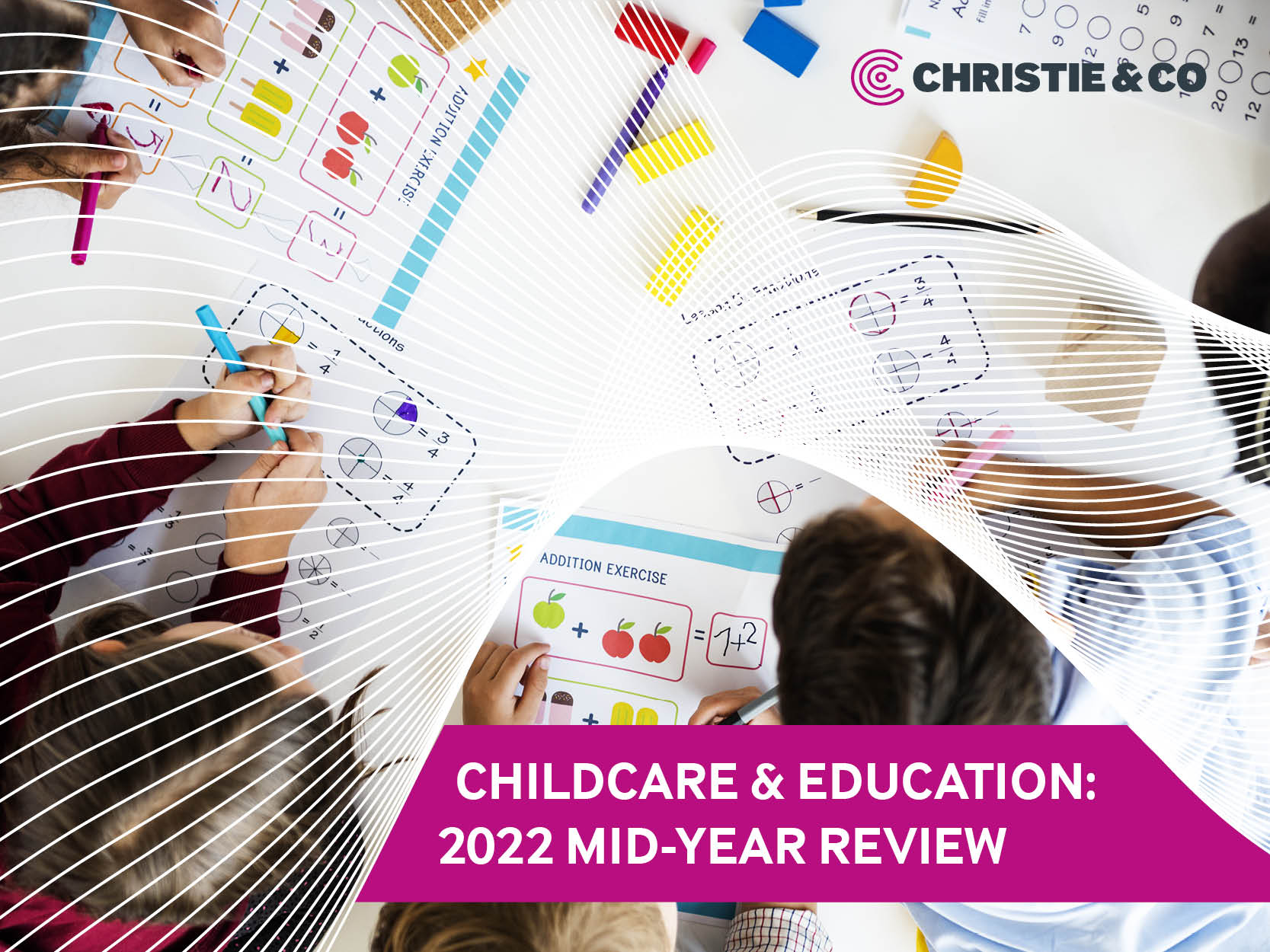 Christie & Co begins by highlighting the buoyancy of market activity so far this year, citing that it has seen a 51 per cent increase in business owners deciding to sell in the first half of the year.

Despite naming a multitude of reasons why many more are selling, including the emotional drain of having traded through a global pandemic, ongoing economic insecurity and increased operational costs, Christie & Co said that owners of businesses demonstrating recovered revenue and earnings have plenty of reasons to be confident, as the best businesses continue to achieve heady prices.
The specialist business property adviser reports that, from 2021 to 2022 YTD, across its childcare sectors, it has seen a 47 per cent increase in the number of inspections, 51 per cent increase in new instructions, 50 per cent increase in businesses sold, and a 34 per cent increase in viewings. 99.5 per cent of asking price is also being achieved, which is an increase on the previous year.
Looking globally, buoyancy is seen across ECEC markets, with active buyers in Europe and further afield seeking acquisition opportunities. Outlook for the remainder of the year looks positive, and Christie & Co expects the markets to remain resilient and for consolidation to continue.

Demand for specialist education & looked after children businesses

The specialist childcare market has been incredibly buoyant so far this year, with a wide range of well-funded buyers seeking foster-care businesses, as well as schools and children's homes on both an operational and a vacant possession basis.
In 2021, Christie & Co saw a surge in demand from operators desperate to find properties suitable for use to support the increase in the number of referrals from local authorities, as well as a notable uptick from providers seeking properties capable of conversion into specialist residential and educational use. This surge has continued into 2022 and it is likely to for the remainder of the year.
Supply of specialist education & looked after children businesses
Despite demand and the heady prices on offer, few business owners have been open to selling, mainly because local authorities and commissioners continue to desperately seek suitable services for children and young people in need, so they are focused on increasing capacity to facilitate this surge in demand.
Christie & Co notes an increase in the number of rurally located children's homes with smaller capacities being brought to the market with vacant possession. These opportunities are, in part, available due to difficulties of recruiting qualified staff - a problem which is heightened in rural areas - and are drawing interest from a wide pool of buyers interested in both prevailing use for individuals with high acuity care needs, and buyers seeking to acquire for private residential use.
One of the most notable transactions so far this year is the merger between Accomplish Group and Keys Childcare which, combined, comprises over 6,000 staff, providing specialist support and education services to over 2,000 children, young people, adults, and families.
Julie Kitson, Director – Childcare & Education, comments, "Demand continues to outstrip supply in this market where there is such a strong appetite from buyers for established businesses but an inadequate volume of new opportunities available. Closed homes with relevant planning are proving to be incredibly popular at present in part due to the limited supply of operational businesses coming to the market, with closed premises awarding buyers the chance to grow organically and quickly. Foster Care, complex care, and mother and baby businesses all remain very sought-after and, with referrals being so high following COVID-19 and national lockdowns, the number of looked after children is at all-time high. Going forward, we expect this sector to continue to attract interest from private, regional, and private equity investors."
For the full Childcare & Education: 2022 Mid-Year Review report, visit: https://www.christie.com/news-resources/publications/childcare-education-2022-mid-year-review/ 
For further information on this press release, contact:
Phoebe Burrows, Corporate Communications Manager
P: 020 7448 8849 or E: phoebe.burrows@christie.com