Stunning exclusive-use wedding venue in North Wales sold for the first time in ten years through Christie & Co
Specialist business property adviser, Christie & Co, is pleased to announce Highfield Hall Hotel, a popular, exclusive-use wedding venue located between Chester and Wrexham in North Wales has been sold for the first time in ten years.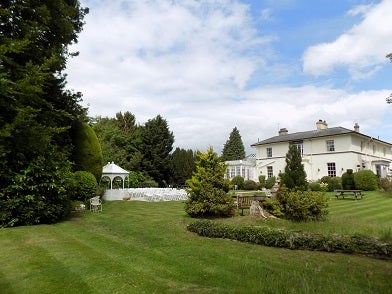 Highfield Hall has been operated by Richard and Lorraine Earl as a family-run, independent wedding venue since 2012. The stunning Grade II listed property, which dates back to 1760, is set within two-acres of landscaped gardens and features a range of indoor and outdoor ceremony spaces, providing the ideal backdrop for weddings.
The venue has been sold to wedding specialists, Stuart and Samantha Gilchrist of Gilchrist Collection, who plan to continue operating the property as a wedding venue.
Samantha Gilchrist, Co-Founder & CEO comments, "We are thrilled to add Highfield Hall into the Gilchrist Collection as our first venue in Wales. Lorraine and Richard have done an incredible job and we are very excited to look after the venue that they so lovingly established. We very much look forward to holding wonderful, exclusive weddings for many years to come and we are very happy to have been introduced to this venue by Christie & Co, who have been a delight to work with every step of the way."
Previous owners, Richard and Lorraine also comment, "We purchased Highfield Hall nearly ten years ago with the aim of developing it into an exclusive-use wedding venue, to help couples have a great day. We have been very fortunate to have achieved this and have been privileged to be a part of many wonderful weddings. However, after 30 happy years of marriage, we felt it was time to look at the next stage of our life journey and decided to look at selling Highfield so we could plan a happy retirement together.
"Christie & Co came to visit us when we were considering going to market, and we immediately knew they understood the wedding business, and the fact that Highfield was not just a hotel but was a perfect place for weddings. We knew we could entrust them to look for buyers in the wedding business who would be able to take Highfield to the next level and make it the ideal first choice for a wedding venue in the area.
"They found a perfect match and we are very happy to have sold to a great wedding specialist who will continue our dream and ensure all our upcoming wedding couples will still have their perfect day at Highfield. We wish Stuart and Samantha great success for the future."
Tom O'Malley, Associate Director at Christie & Co, who handled the sale, adds, "After my initial meeting with Stuart, I knew that Highfield Hall would be the perfect property for him and Samantha to add to their growing portfolio of wedding venues. I wish them the best of luck with the business and also hope Lorraine and Richard enjoy a very happy, and well deserved, retirement."
For further information on this press release, contact:
Bronte Hughes, Corporate Communications Executive
P: 020 7227 0794 or E: bronte.hughes@christie.com
Contact the agent:
Tom O'Malley, Associate Director – Hospitality
P: 07764 378 446 or E: tom.omalley@christie.com
Visit Christie & Co's Business Search page to find out more about current hospitality listings.