Nordic Hotel Market Update: Impact of Covid-19
Read Christie & Co's report on how the Covid-19 pandemic has impacted the Nordic hotel market.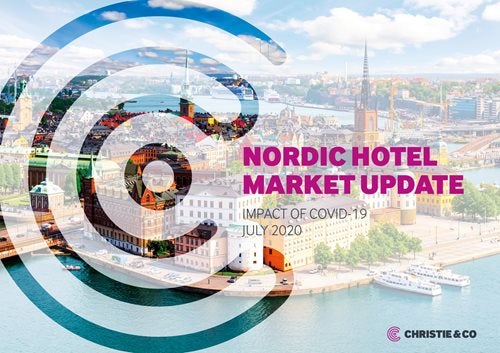 The ongoing Covid-19 pandemic has placed the hotel industry into an unprecedented situation. The pandemic that started in Wuhan, China, at the end of 2019 and spread globally, has caused an almost complete stop to all forms of travel, which was reinforced by government-imposed restrictions on mobility and border closures.

As has been widely recognised, the effects of these developments have been steep and immediate for hotels globally, with no exception in the Nordic markets.

While hotels in the Nordics have not been obligated to close by the respective governments, many hotels have closed shop temporarily due to a radical collapse in demand that started in March. For instance, at the end of April, more than half of Scandic's, the largest Nordic hotel operator's, hotels were closed. In the capital markets, recorded overnights in March saw a decline of 55-65%, this continued in April when overnights plummeted by 87% on average compared to the previous year...

Click here to read the full report.