Strong return to trading in H1 2022 maintaining buyer interest in pubs & restaurants according to Christie & Co's Mid-Year Review
Specialist business property adviser, Christie & Co has today launched its Pubs & Restaurants: 2022 Mid-Year Review, which reflects on activity, trends and challenges across the UK's pub and restaurant markets in the first half of 2022 and provides an outlook for the rest of the year.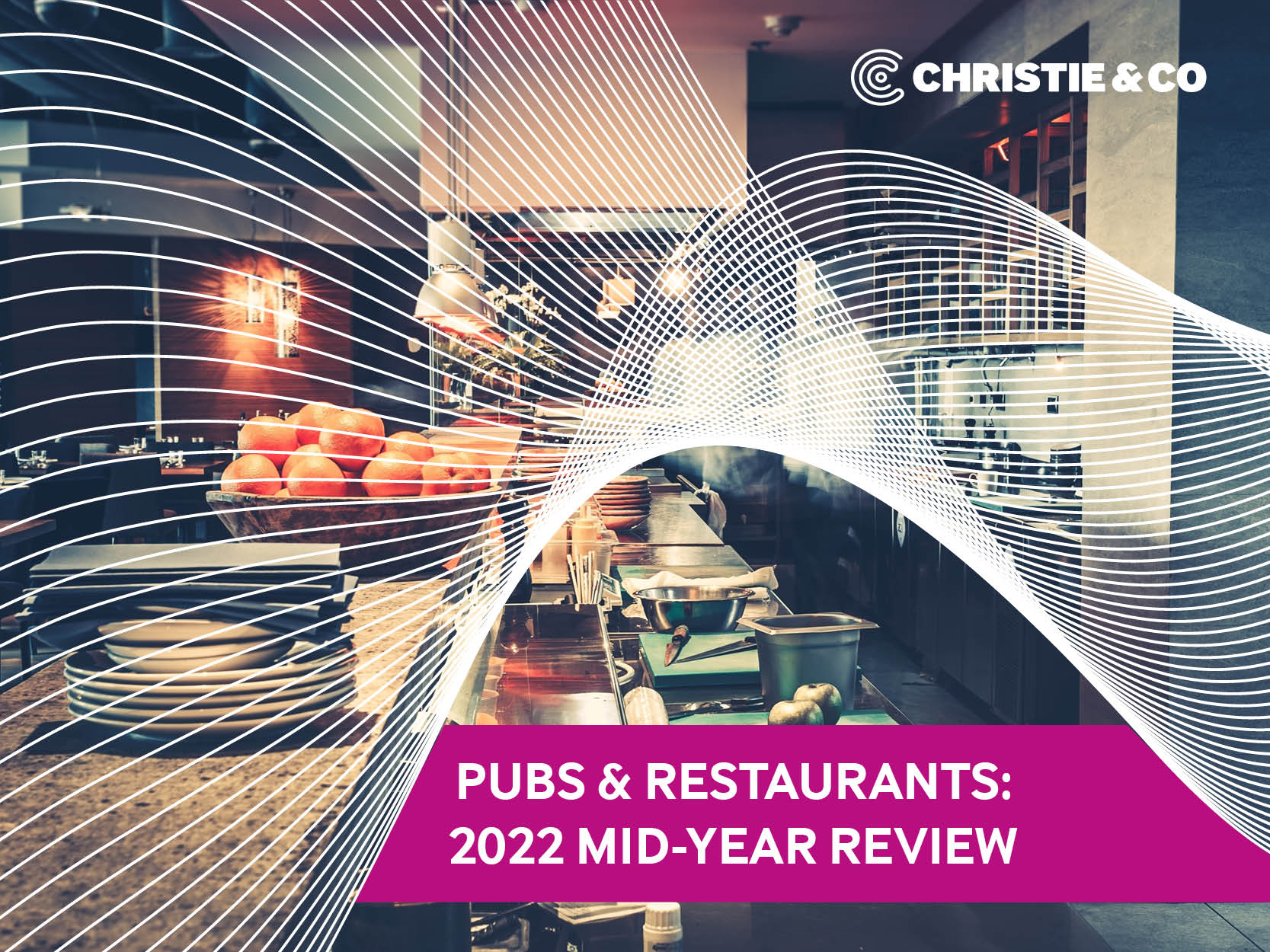 Many hospitality businesses reported a strong return to trading during H1 2022 and the review indicates that this has helped to drive investor interest in the pub and restaurant sector. However the transactional market has become polarised, with demand for assets at the premium and value end of the spectrum and fewer opportunities in the mid-market.
Freehold assets remain most attractive, although there is still good demand for free-of-tie leasehold sites in prime locations. Premium pubs with outside space and accommodation remain high on buyers' wish lists and restaurants in prime positions are also in demand but otherwise the market remains challenging.
As 2022 kicked off, the market was experiencing a shortage of supply coupled with a strong presence of buyers in the market which resulted in relatively robust pricing. However, the review reveals that Christie & Co started to see a shift in the number of opportunities coming to the market in the following months and new instructions increased by 56% during H1 2022 – well ahead of the last two years.
Additionally, business prices continued to hold throughout H1 and there was more parity between buyers and sellers pricing expectations, with average price achieved vs asking price increasing 3.0ppts in 2022 YTD compared to 2021 for pubs and 10.2ppts for restaurants.
In the wider market, there was a lack of corporate activity in H1 but the review suggests this is likely to ramp up in H2, following recent announcements that Marston's and Stonegate Pub Company are looking to sell off sites in their pub estates and with Amber Taverns being put up for sale as well. The review  also mentions that RedCat continue to be particularly acquisitive having exchanged and completed on several sites.
Looking ahead to the second half of 2022, the review notes that challenges lie ahead for operators, with inflation and the costs of goods and staff continuing to rise, which may bring more opportunities to the market. However demand for quality assets remains unabated and Christie & Co is seeing more corporates, regionals and brewers seeking to add to their portfolios, which should help to maintain prices in the second half of 2022.
Stephen Owens, Managing Director – Pubs & Restaurants comments, "During the first half of 2022 we saw the momemtum that had built up throughout 2021 continue, with a number of active buyers seeking quality freehold assets from a limited pool. However as we enter the second half of the year with increasing cost headwinds and shifting consumer confidence we predict that further assets will come to the market which should provide those buyers in the market with increasing opportunities."
To read the full 'Pubs & Restaurants: 2022 Mid-Year Review', CLICK HERE.
For further information on this press release, contact:                                                                                                
Bronte Hughes, Corporate Communications Executive
P: 020 7227 0794 or E: bronte.hughes@christie.com
Visit our Business Search page to find out more about our current listings.