Hospitality Industry Challenges: Rising Cost Pressures
In the second instalment of our blog series looking at economic and operational challenges, we look at rising cost pressures, in particular the exploding energy prices which have been well reported over the last few weeks and have been exacerbated by the Russian invasion of Ukraine.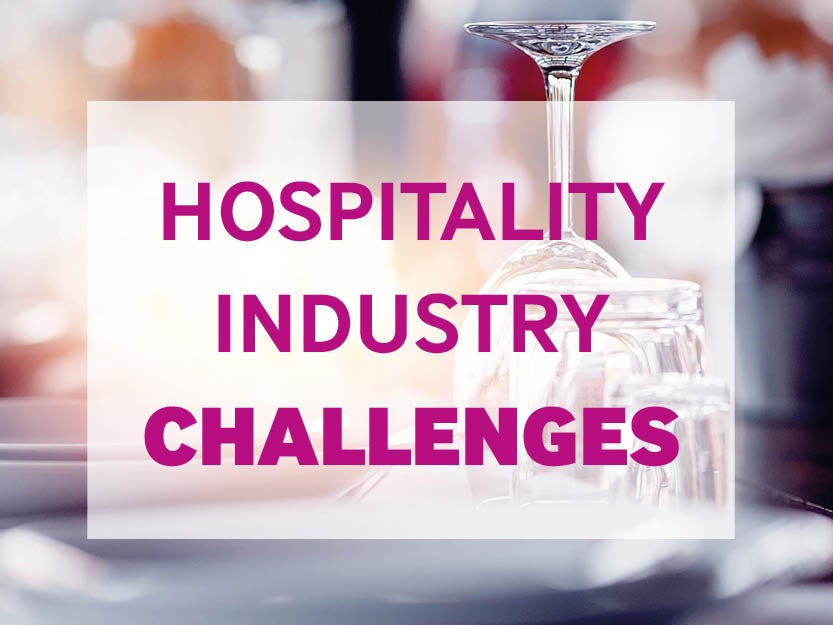 Staff shortages and the growing difficulties to fill vacancies in hospitality establishments (and several other industries such as logistics, facility management, etc.) combined with the rise of inflation has led to a significant rise in labour costs of 11% on average per month since April 2021.
Employers are faced with increasing competition from other sectors and have to offer better working conditions to raise the attractiveness of their employment offer. Additionally, the planned increase of the minimum wage to £9.50 per hour from April 2022 will further reduce profit margins, although many businesses already had to augment hourly wages to or in some cases above that level to attract staff. While labour costs generally accounted for 35-45% of operating revenue prior to the pandemic, it is likely for that figure to increase.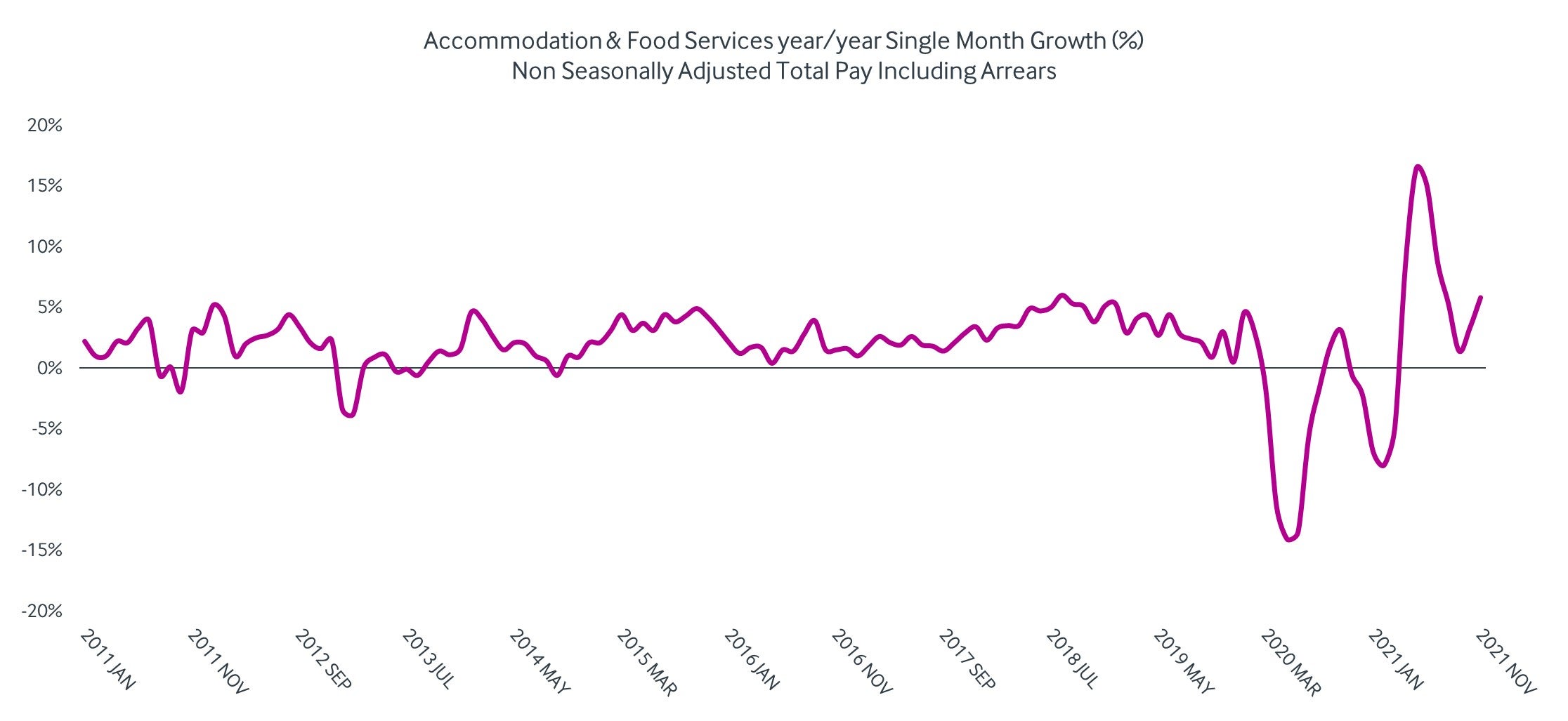 Source: ONS 
Increased labour costs are not the only cost pressure the hospitality industry is facing. While the Consumer Price Index for hospitality, cafes and restaurants has historically been around 3% between 2000 and Q1 2020, the impact of the first lockdown and the subsequent restrictions pushed CPI temporarily to its lowest levels in 20 years to -1%. However, the combined effect of a variety of factors including staff shortages, supply chain disruptions and increased operational costs due to Covid safety procedures pushed CPI to a record high of 5.8% in Q4 2021.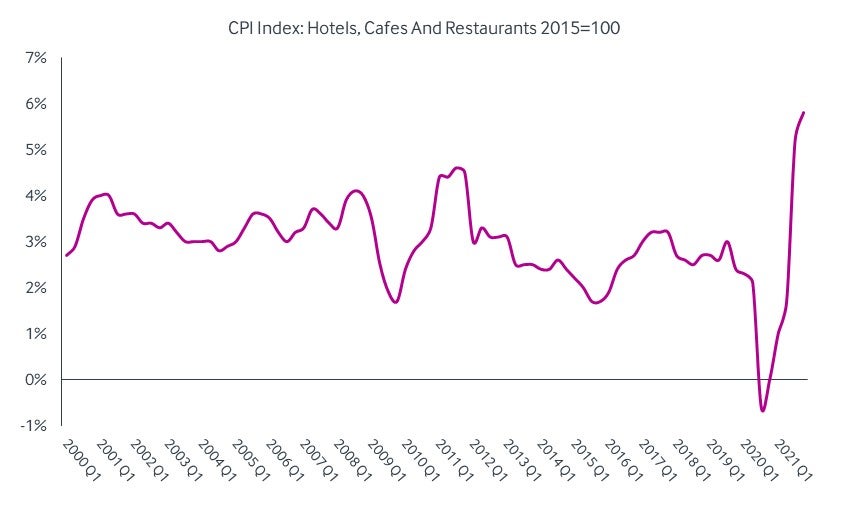 Source: ONS 
Exploding Energy Prices
As if the rise in labour costs – the largest individual cost element for hospitality businesses – wasn't enough, energy prices have also risen to record levels across Europe, with the UK still expected to see the highest increase in the coming weeks. These increases contribute to the growing challenges the hospitality industry is facing today, further impacting business profit margins and ability to recover.
The latest figures from the ONS show a long-term upward trend in non-domestic electricity prices, which rose by 7.5% in the second quarter of 2021 (including the Climate Change Levy). Average non-domestic gas prices for the same period rose by 9.2%. When comparing the UK to the EU14 countries, average non-domestic electricity prices in the UK were the second highest in the group, whilst gas prices were fifth lowest for the second half of 2020.
Non-domestic Electricity and Gas Prices in EU14 Countries – January to June 2021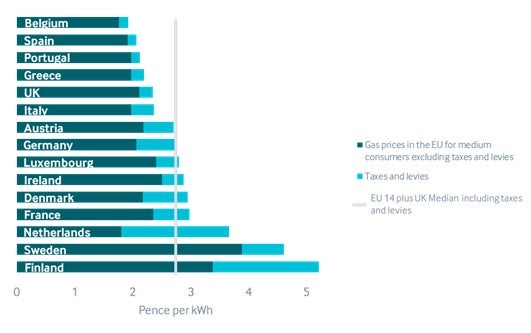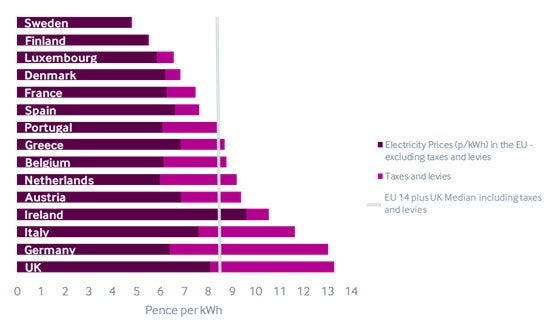 Source: UK Department for Business, Energy & Industrial Strategy; Eurostat Statistics in Focus gas prices for EU Industry
According to the ONS, the effects of the recent increase in wholesale gas prices were immediately felt by hospitality businesses, with 36% of UK businesses reporting that production and suppliers were affected by the recent increase, 23% of the respondents not being affected and the remaining being unsure.
Whilst the global economic slowdown created by the pandemic impacted the demand and consumption of energy worldwide driving energy prices to their lowest levels in decades, the return to normality and a faster-than-expected economic recovery saw demand for energy skyrocketing. This increase in demand together with a combination of external factors including a cold and long winter in Europe, very low stocks of coal and a lack of supply have contributed to push the prices of energy up. Furthermore, the UK is highly dependent on gas and renewable energy to create electricity which has seen the biggest price hikes in recent months.
Additionally, Russia's invasion of Ukraine has put added pressure on oil and gas supply which further increased wholesale prices across Europe. While the UK only rely marginally on Russian oil and gas, the country is bound to international gas markets that are all affected by a fall in worldwide supply. Prices are set to increase further in April and October this year with gas prices having already risen by 97% between April 2021 and April 2022.